The Pittsburgh Steelers have always been known for their defense. A big part of that defense, especially during the Steelers Super Bowl runs in 2006, 2008 and 2010, was the team's pass-rush. They like to get after the quarterback, which, in turn, makes life easier for everyone else on the defensive unit. During those runs the Steelers relied on guys like Joey Porter, Clark Haggans, LaMarr Woodley and James Harrison, Harrison is still around, but the Steelers are now ready to turn to a new face, Bud Dupree.
Dupree, the Steelers first-round pick in 2015, looks like he is ready to follow in the footsteps of those before him. Although he missed the first half of the 2016 season with an injury, he was able to return and play a key role in the Steelers seven game sin streak down the stretch. Playing in only seven games Dupree totaled 24 tackles and 4.5 sacks. Now, Dupree will be looked at to take on a full-time starting job at outside linebacker in year three.
Double-Digit Sack Numbers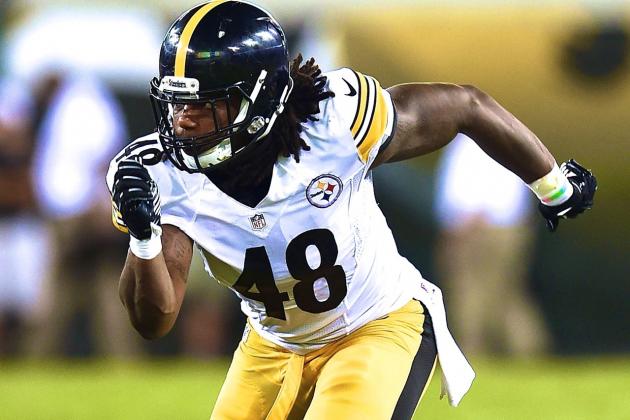 Dupree, while sharing time at outside linebacker, racked up 4.5 sacks in only seven games. If he can stay healthy in 2017 and earn a full-time starter job there is no reason to think that he can't put up double-digit sack numbers this season. In fact, Dupree looks like a player who is truly ready to breakout. Watching him play down the stretch he looked very good and he should continue to improve, especially with another off-season under his belt.
Dupree, and the team's other young outside linebackers like TJ Watt and Keion Adams, also have a great mentor in James Harrison. Harrison, although only a step away from turning 40, is still one of the leagues best pass-rushers. He also has a work ethic that would be hard for anyone to match. For players just starting their careers he is a great role model to show them what it takes to be successful in the NFL.
Potential Impact on the 2017 Season
Just for fun let's say that Bud Dupree has a similar season to LaMarr Woodley's third year in the league. During the 2009 season Woodley had 13.5 sacks and 62 tackles. That also, unfortunately, happened to be Woodley's best season as a pro. Now, if Dupree can put up numbers similar to those it would have a huge impact on the defense as a whole. Early in Woodley's career he was a force to be reckoned with and constantly put pressure on opposing quarterbacks.
After his career was derailed with injuries, however, the Steelers have been looking for a replacement to play opposite Harrison. Jarvis Jones was drafted to be that guy, but that never worked out. Now, the Steelers are turning to Bud Dupree and TJ Watt to be the next outside linebacker duo in Pittsburgh to wreck havoc on the league. Watt may need a year or two to get to that level, but Dupree should be ready to go.
Another huge impact that Dupree could have this season is making life easier on the secondary. The Steelers secondary struggled in 2016, especially in the AFC Championship game, but if the Steelers can put more pressure on the quarterback this season it will cause two things. First, quarterbacks will have to make quicker decisions resulting in more opportunities for interceptions and knockdowns. Second, it will result in more hits on the quarterback, which are shown to have a major impact as a game wears on.
Preparing for Year Three
Dupree knows that he has to improve to become the player he wants to be. During the off-season he has used boxing as a way to work on speed, footwork and it should help with that quick punch to get around the edge.
Apparently Bud Dupree is Boxing. #Steelers pic.twitter.com/yfmkotCQqL

— Blitzburgh (@Steel_Curtain4) October 20, 2016
Dupree, as well as the other young Steelers defenders, are also using their loss in the AFC Championship as motivation. They know they need to get better if they want to reach their ultimate goal. They also know that they continued to grow during the 2016 season and should only get better as time moves on.
"We're going to be a way more mature defense," Dupree said of Pittsburgh's defense. "We're just going to continue to blossom. It's going to be something to watch next year."
https://steelersblitz.com/wp-content/uploads/2017/06/Bud-Dupree.jpg
483
960
Kyle Curry
https://steelersblitz.com/wp-content/uploads/2017/04/SB-Logo-1030x206.png
Kyle Curry
2017-06-05 10:04:20
2017-06-05 10:04:20
Bud Dupree is Poised For Breakout Season in Pittsburgh