There has been a lot of talk about the Steelers draft picks in the fourth and sixth rounds. Fans are wondering why the Steelers drafted quarterback Joshua Dobbs in the fourth round. Dobbs was one of the last picks in the fourth round. Then six of the first eight picks of the fifth round were all players that fans may have been happier with.
Tight-ends Jake Butt, George Kittle and Jordan Leggett were all drafted at the start of the fifth. As were defensive-backs Desmond King, Damontae Kazee and Corn Elder. The Steelers, however, chose to go with Joshua Dobbs, but Steelers fans have plenty of reason to be happy with that decision.
Recent History of Late Round Quarterbacks
One reason to not be excited is the Steelers recent history in drafting late-round quarterbacks. Since the year 2000 the Steelers have selected seven quarterbacks in the NFL Draft, including Dobbs. That list includes Ben Roethlisberger and not much else.
In 2000, the Steelers selected another Tennessee quarterback in Tee Martin. Martin never caught on the NFL, but he almost won a championship in the CFL, which is something. Martin now works as a coach and was Juju Smith-Schuster's wide receiver's coach at USC during 2016.
In 2003, the Steelers selected Brian St. Pierre, who served as a back-up for multiple yearsin the NFL. Then there was Ben Roethlisberger, which was one of the best selections the Steelers have ever made. Next, came Omar Jacobs and Dennis Dixon. Neither of whom could bring their college abilties to the NFL field.
Finally, we have Landry Jones, the Steelers current back-up and then Dobbs. That isn't the best track record in quarterback picks, but if you are playing the law of averages the Steelers may be due for another hit at quarterback after a decent number of misses.
The Potential of Joshua Dobbs
Everyone talks about how the Cleveland Browns can't find a quarterback. The problem, though, is that those quarterbacks are never given much of a supporting cast. Without anyone around you it is going to be hard for anyone to be successful.
As for Dobbs he could potentially take over as the Steelers quarterback in the next three years. That could result in him playing behind one of the best offensive lines in the NFL. Having the best running-back in the NFL, if the Steelers re-sign Le'Veon Bell. And he will have a solid corps of wide receivers with Antonio Brown, Juju Smith-Schuster, Eli Rogers and Martavis Bryant, if he is re-signed. Having those players around him will make the transition into the NFL much easier on Dobbs.
Also, if you are a fan of Todd McShay's draft analysis you should be really excited. If McShay is right about Dobbs the Steelers got a steal in the fourth round. McShay thought, pre-draft, that Dobbs could sneak into the late first round. He also, post-draft, called Dobbs the Steelers best draft pick.
The Biggest Reason Why You Should Be Excited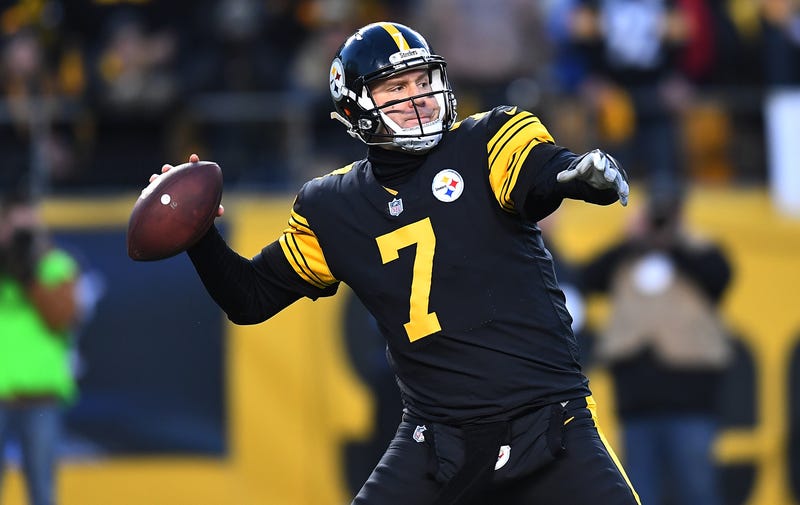 The biggest reason you should be excited about Dobbs is that the Steelers waited until round four to pick a quarterback. When Ben Roethlisberger hinted at retirement it came as a shock. No one is expecting Roethlisberger to retire for a couple of more years, but the reality that the time is coming was something no one wanted to face.
The Steelers, no doubt, talked with Roethlisberger after his comments to get an idea of his real retirement plans. If they thought he was planning to retire in after next year they likely would have drafted a quarterback earlier. They may have even tried to move up for someone like Pat Mahomes, who they showed a lot of interest in pre-draft.
Pittsburgh, however, decided to wait it out and drafted Dobbs in the fourth. At that point they probably didn't expect him to still be around and he was, likely, too good of value on their board to pass up. The best thing about all of this, though, is the Steelers didn't see a major need for a new quarterback. That means they think Ben Roethlisberger will be around for at least a couple more years, which also means the Steelers have a really good chance at making a run at ring number seven.
https://steelersblitz.com/wp-content/uploads/2017/05/Joshua-Dobbs.jpg
800
1200
Kyle Curry
https://steelersblitz.com/wp-content/uploads/2017/04/SB-Logo-1030x206.png
Kyle Curry
2017-05-04 14:59:38
2017-05-04 14:59:38
The Number One Reason You Should be Excited the Steelers Drafted Joshua Dobbs